Magnificent gilt-bronze mounted mahogany organ and dulcimer musical longcase clock from the workshops of Kinzing and Roentgen, signed Achenbach & Schmidt, Neuwied, Germany circa 1785

The famous German families of Roentgen and Kinzing collaborated on the manufacture of a number of superb quality clocks from 1765; amongst these clocks was a small number of rare complicated musical longcase clocks; the present lot made by the sons-in-law of Johann Kinzing is a fine example which has survived in good condition.
A similar clock, but lacking the musical mechanism, was offered Christie's New York 2nd November 2000 lot 202.

Description:
12¾-inch dished enamel dial signed Achenbach & Schmidt A Neuwied with well pierced and engraved gilt hands, concentric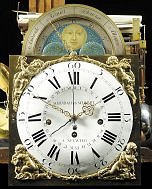 calendar and centre seconds, playful putti spandrels, strike and music control levers at III, VI and IX, the arch with a painted and silvered moon disc below a tune selection arc engraved Andante, Menuet, Polonoise and Allegro, the substantial three train weight driven bell striking and trip repeating movement playing the selected melody by means of a pinned brass cylinder (28 cm long, 14.5 cm diameter) controlling a wood pipe organ, with top mounted bellows and a replaced dulcimer with twenty-five hammers, the music train with large side-mounted fly:
The Neo Classical case with urn finial above an oval stepped cresting and further urn finials, the hood door applied with gilt-brass fluted panels in the upper corners and further gilt mounts, flanked by brass mounted pilasters,the trunk with fluted gilt-brass frieze around the top and centered with miniature portrait roundels on the sides and, at the front, with a ribbon-tied floral roundel, the panelled trunk with turned paterae in the corners and flanked by brass quadrant pilasters, similarly decorated plinth, each side with two doors fitted with fabric panels.

Measurements:
296cm 9ft 8½in. high overall.

Origin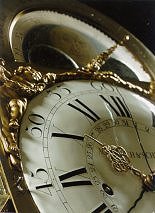 This clock comes from the Schaezlerpalais in Augsburg situated on the principal street Maximilianstrasse. The building was owned by the banker Benedikt Adam Liebert von Liebenhofern (1730-1810) who had the Palais completely remodelled in 1765 by the Munich court architect Karl Albert von Lespilliez. The finest artists and craftsmen were employed to carry out the interior decorations. The painting was undertaken by Gregorio Guglielmi who had been employed to do similar work at Schloss Schönbrunn. The result was that the Palais became the grandest residence in Augsburg. The house was inherited by Johann Lorenz Schaezler (1762-1826) the first Baron Schaezler and son-in-law of Liebert. The Palais continued in the same family until 1958 when it was given to the town of Augsburg by Dr.Jur.Wolfgang Freiherr von Schaezler in memory of his sons who died in 1940 and 1943.
The family tradition is that the clock was bought by Liebert as a wedding gift on the occasion of his daughter's marriage to Johann Schaezler in 1785. A similar clock had been delivered to Empress Catherine the Great of Russia in 1784.

---
The famous cabinet making firm of Roentgen

was founded by Abraham in 1742 who moved the business to Neuwied in 1753. The ownership of the business was transferred to Abraham's son David (1743-1807) in 1772 from which time it flourished. David Roentgen became the most successful and innovative Continental cabinet maker in the second half of the 18th century. He undertook a number of Royal commissions and in France was Ebéniste-mécanicien du Roi et de la Reine.

---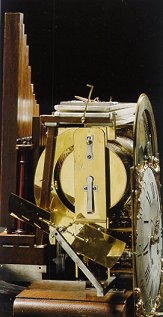 clockmaking family of Kinzing (and Achenbach / Schmidt / Weyl)
The clockmaking family of Kinzing was founded by Johann (1681-1769) who had three sons and two daughters. The most famous of the sons was Christian (1707-1804) who worked closely with David Roentgen to produce some wonderful clocks. The daughters married two clockmakers Herman Achenbach (baptised 1730, died 1792) and Johann Schmidt (1734-1795):
Achenbach worked with his brother-in-law Christian Kinzing from 1753 and eventually set up another branch of the Kinzing workshop with Johann Schmidt in 1777 working in the Kinzing tradition and using Roentgen cases. Achenbach died in 1792 and this workshop was closed although two grand-sons of Christian Kinzing, Carl (1781-1840) and Christian (1778-1861) continued as clockmakers working to the same high standards until 1838 when the Kinzing workshop finally closed.
Although Peter Kinzing (1709-1743) was an organ maker he was dead by the time this clock was made and it is likely that the musical mechanism was made by the Weyl brothers, Johann Christian (1758-1827) and Johann Wilhelm (1768-1813), who collaborated with the Kinzing family in the making of musical mechanisms. They founded the organ factory `Gebrüder Weyl' at Neuwied in 1807.

---
Sotheby's Auction, London, Olympia
Important Clocks, Watches and Mechanical Music [W03825]
Thursday, 19 Jun 03

Lot 45

---
Museale Bodenstanduhr mit Flötenwerk David Roentgen & Gebrüder Kinzing


Neuwied, um 1785
Gehäuse aus feinstem Mahagoniholz, feuervergoldete feinste Bronzeapplikationen
(Gürtler Hermann, Vergolder Wollschlager).

Uhrwerk von Hermann Achenbach und Johann Schmidt in Neuwied; Stundenschlag

Anzeige von Minute, Stunde, Sekunde, Datumsanzeige, Angabe der Mondphasen

Flötenwerk mit 4 Melodien (Andante / Menuett / Polonaise / Allegro) von J. Weyl, spielfähig,

Zymbalrahmen und Bespannung ergänzt, ursprüngliche Mechanik vollständig erhalten,

Gangdauer; 10 Tage Größe: 295 cm

David Roentgen war der berühmteste Kunst- und Kabinetttischler des 18.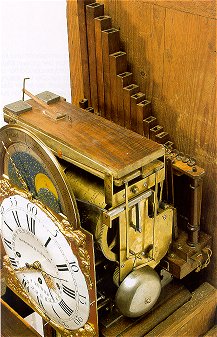 Jahrhunderts. Die engen Verbindungen zu den bedeutendsten Herrscherhöfen, brachten zahlreiche Ehrentitel und Niederlassungen in anderen Städten. Selten produzierte er auch Uhren in seiner Werkstätte, die er ausschließlich in Zusammenarbeit mit den Gebrüdern Kinzing fertigte, deren Uhren und Instrumentenmacher- Werkstatt von Christian dem I gegründet wurde und die mit den Roentgens etwa ob 1765 kooperierten. Dazu gehörte auch die Werkstatt seines Schwagers und Hausmiterben Hermann Achenboch und seines Schwagers Johannes Schmidt. Immer wenn diese Uhrenmöbelmanufaktur für Prinzen und gekrönte Häupter ihre Werke lieferten waren es prächtige Gemeinschoftsleistungen.
Besonders Katharina 11 war von den Kunstobjekten öußerst angetan.

Äußerst selten sind Uhren mit Orgelwerken gefertigt von Christian und Johann Wilhelm Weyl. Beide waren langjährige Mitarbeiter der Roentgen-Kinzing Werkstätte. 1807/1808 gründeten sie in Neuwied die Orgelfabrik "Gebrüder Weil", die von ihren Nochfahren bis zum Jahre 1888 weitergeführt wurde.
Diese Uhr war schon zu ihrer Entstehungszeit besonders selten und ein kostbares Kunstwerk. Sie war für ihre komplizierte Mechanik und die perfekte Ausführung berühmt.
Es ist einer der Höhepunkte im Leben eines Sammlers, solch ein Objekt nicht nur im Museum, sondern am freien Markt zu finden. Unter anderem befindet sich eine Standuhr von Roentgen im Metropoliton-Museum in New York.
Quelle: Katalog zur Verkaufsausstellung "Tempora Antiqua", D & S, Wien